1st Hour Update: The 2015 Desert Solstice race is underway with 22 runners competing today.
Early in the race, Zach Bitter has taken off on full speed to go for the 100 Mile world record (11:28:03) set in 2002 in London.
Familiar faces on the track include returning competitors Joe Fejes, Katalin Nagy, Ed Ettinghauser, Stacey Costa and Hung K NG. A few new fresh faces looking to gain experience in the 24 hour includes young Anthony Kunkel, who early on shows a lot of energy (and perhaps wasted energy talking to everyone around him), Josh Finger and Ian McIlvenna who both posted 143+ & 150 miles respectively at this year's Dawn Till Dusk Track Ultra in May. 2015 IAU World Champion Katalin Nagy is going for the 24 hour American Record of just over 152 miles.
Zach Bitter's American Record 100 Miles in 11:40:55 Video:

Mark Richtman breaks the 60-64 age group world record for 50km in 3:34:35.
20km American Record 1:26:42

25km American Record 1:48:22

2 Hour American Record – measurement pending

30km American Record 2:09:41

20 mile American Record 2:18:58

50km WORLD RECORD 3:34:35
Zach Bitter is still flying around the track at needed pace for 100 mile world record.
50 Mile Split for Zach, 5:33

100km Split – 6:58 – New American Track Open Record – previous from 1985 7:00
Ian McIlvenna drops out of race at 6hrs 40 after 81.6km 50.7 miles, came to race with lung infection, coughing up stuff.
March Richtman Interview
8-10 Hour Update:
Zach Bitter is ahead of World Record Pace just barely… 18 miles to go!
Video Commentary of First 6 hours by Dave James:
11 Hour Update
Zach Bitter World Record 100 Mile pace is slipping, but 93.5 miles in 10:50 is pretty darn good! Anthony Kunkel needs to keep going, for experience. Ed Ettinghauser and Joe Fejes doing their thing. Katalin shows now sign of slowing down. Pete Kostelnick, and Joshua Finger know what they're doing. In it for the long haul. Oleg Tabelev also. Melanie Rabb (3rd at Rocky Raccoon last year) is running an impressive performance 2nd to Katalin with 73 miles in 10:52.
12 Hour Update:
Zach Bitter breaks his own 100 Mile American Open Track Record in 11:40:55 by 7 minutes
19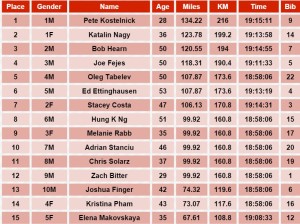 Hours: Less than 6 or 7 runners left on the track. Several have called it a day at 100 Miles (Zach Bitter, Chris Solarz, Hung K Ng, Adrian Stanciu, Melanie Rabb). Pete Kostelnick now leading the race with 134 miles in 19:17 for the men, followed by Bob Hearn with full intentions of going 145+ miles. He's got 4+ hours, and at 120 miles. The men are rounded off with Joe Fejes at 118 miles, and Ed Ettinghausen at 108 19 hours 16.
Katalin Nagy s(124 Miles )o far has no female challenging her like last year (Traci Falbo pushed Katalin to the end). Melanie Rabb hit 100 miles in 15:17, but stopped. Stacey Costa (106) will keep moving, and finish 2nd female. Both Ed Ettinghausen and Elena Makovskaya (67.6 Miles) are showing their experience by staying on the track and keep ticking off laps one at a time despite walking.
21 Hours Update: Katalin Nagy has pain in hamstring, pulling out at 121 miles , not going for 24 hour record now. Will Stacey Costa-Zweifel gain the 17 miles in the last 3 hours on Katy to win? Looks like Pete Kostelnick will likely secure a spot on the USA National 24 hour team. He has 3 hours to run and has already hit 145 miles in 21 hours! Bob Hearn at 131 Miles. Joe Fejes calls it, had enough for the day at 118 miles. Ed Ettinghausen keeps on moving at 114 with 3 hours remaining.
Zach Bitter's American Record 100 Miles in 11:40:55 Video:
[youtube https://www.youtube.com/watch?v=itahv9PL5rA]
23 Hours 30 Minutes Update: Pete Kostelnick is winning by a commanding margin. He won Badwater earlier this year, this is his first ever 24 hour race! And first time racing on the track. Bob Hearn has stayed out on the track for 147 miles with a few minutes left. Ed Ettinghauser climbed into 3rd for men, Stacey Costa keeps going for over 120 miles, but will finish 2nd to Katy who left at 129 miles earlier.
Ending/Finish: Pete Kostelnick wins the 24 Hour with 163.5 miles (plus last lap distance) putting him 2nd in the world in 2015, and also Top 40 ALL-TIME in history (world) for 24 hours. This was Pete's first 24 Hour Race, and first race on a track. Bob Hearn finished 2nd with 149.13 miles, and also broke the 50-54 age group American Record previously held by Ed Ettinghausen which was 144.63. Ed finished today's 24 hour in 3rd place with 123.53 Miles.

Katalin Nagy though leaving the race at 21 hours with a hamstring issue, she still managed to win the 24 hour race with 129 miles and 100 mile race. Stacey Costa stayed on the track to finish 2nd with 121.29 miles, Melanie Rabb finished 3rd with 100 miles in 15:08. The weather held out perfect for a 24 hour race, it got into low 40s F, but for the 4-8 runners who ran overnight, they enjoyed a perfect race. All records and updates mentioned through Desert Solstice are mentioned below.
Photos from Award ceremony and last few minutes. All updates and photos and videos made throughout Desert Solstice event are located below. All photos taken by Israel Archuletta.